Discover more from MurderPM with Viktoria Evans
Crime, Media, and Culture
Bound to Kill Excerpt
Contradictions (previously an early draft of Chapter 1)
Choctaw County, French Camp, Mississippi 
Winter 2002 
"Nothing is ever what it seems but everything is exactly what it is." – Buckaroo Banzai 
Travis Anton sat in front of his computer; it was the 11th of November. He turned on his Apple Power Macintosh 7300/200 computer, logged in and opened up the Internet browser to purchase a new website. He took a sip of his whiskey and Coca-Cola and lit up a Camel Turkish Gold cigarette, staring at the piece of machinery, which was considered ancient at the time as it had been released in 1997. 
Smoke curled around the monitor as he typed in the web address for GoDaddy LLC, the number one domain registrar on the net. The front page loaded featuring the familiar slogan "cool name, hot prices", and he logged into his account with his work email, travis@boxtopsoft.com. Travis was a driven man full of ideas. He had already registered three other websites and was about to secure the fourth. 
He bought his first site on the 14th of June 1996 for his software company, BoxTop Software, which raked in the capital that he'd used to invest in his dream business venture, a kinky pornographic website at www.jussive.com. He had secured the domain for the artsy photo-journal in 2001. The project was an interesting twist on journaling that followed the life of a consensual sex slave named Diane Lane. She told her story via graphic journals and photographs depicting what it is to be a masochist in a BDSM relationship. 
Diane Lane was actually Susan Anton, Travis's wife. He had eclectically dubbed her as the "subversive crusader for sanity", which was also the title on the photo-journal's main page.
The word jussive is an adjective defined as (in the form of a verb), "expressing a command". When asked about jussive Susan responded slowly, "I don't know what that was functioning as…" after a pause she repeated, "I don't know what that was functioning as". She was clearly uncomfortable with the line of questioning…
MurderPM is a reader-supported publication. To receive new posts and support my work, consider becoming a free or paid subscriber.
Over the years Travis had accumulated a collection of subscriptions to magazines, including porno mags. Magazines like the Taboo edition of Larry Flynt's Hustler magazine and Playboy were right up his alley. He imagined himself as a tech savvy Hugh Hefner. Travis wanted to make money in the largest industry of all time; he wanted to produce pornography. He was an artist and a writer and a sexual sadist; making a very personal, kinky pornographic documentary was the perfect combination of his talents. 
In May of 2002, he registered a third site through GoDaddy for his second company Antimony Software under the domain of the same name, antimonysoftware.com. Though the company is listed as being copyrighted in 1998, the same year as BoxTop Software. Antimony could be described as a rip-off of BoxTop products sold at discount prices. He was always thinking up new avenues for revenue and "building an empire", as he put it. One way of doing this was to steal and recycle software. This was the early internet after all, and regulations aren't what they are now. 
Travis extinguished the butt of his cigarette in the small glass ashtray by the mousepad and ran his fingers through his long brown hair as he reviewed the now completed registration page for his new website. With a grin and a single click he purchased the e-commerce plan for $8.95 a year and the domain www.deliaday.com was his. 
The plan was to create what could be considered as Jussive 2.0, i.e., an upgraded sex-slave website under a different name with far more content than the original site. Diane Lane was a trial run. The new website was to be called My Illustrated Life as a Sex Slave. 
The goal was to make it stand out among all the other fetish porn sites out on the world wide web. By 2002 there were 280,000 X-rated websites generating over $10-20 billion in revenue (Justice Department). The money was there, and he was going to have a piece of it. 
For nearly a decade he had accumulated thousands of pictures of his wife, Susan, and recorded their sexual exploits which were graphic by the nature of being hardcore BDSM. There is no denying the popularity of such a spectacle, and no denying the money available to those who chose to venture into such a business if they succeed. This feat would land Mrs. Anton her first fifteen minutes of fame in the underground world of kinky Internet pornography. 
Susan was a self-portrait artist in her own right and went by the alias Delia Day online, signing all her work under the same name. Elements of bondage were a thematic and theatrical part of her work apart from the porn. 
In order to separate their adult business from Susan's artist persona as Delia Day, she went by the name Diane Lane for her X-rated pseudonym. But in 2002 the plan changed. Delia was getting an upgrade; she would soon be an artist and a fetish porn star. It was better for business and much more genuine than having two different names and two different concepts behind the same face. 
Travis took all the photographs and wrote the journals for deliaday.com and Susan modeled as the subject of the documentary and continued to work on her self-portraits.
They were at the forefront of the Internet age but, like many intelligent and inventive personalities, their intimate relationships proved dysfunctional despite their recent, though modest, financial acquisitions. Things between them had become strained. Travis was a workaholic and Susan was suffering some serious psychological setbacks. 
The Antons lived in a 1,495 square foot, three-bedroom house with their two children. The home sat on a 6.9 acre lot right on the edge of French Camp, backed up to the woods along Mount Salem Road. 
French Camp is one of three towns in Choctaw County and is as remote a community as one can get in the lowlands of Northwestern Mississippi. Its northern border is the Big Black River, which flows southwest into the Mississippi south of Vicksburg. It is located ninety-two miles on US-82 East to Drew, where she had grown up and fifty-two miles to the farm he grew up on in Lexington. The two of them lived in Mississippi all their lives in a number of small towns sprinkled throughout the state, however, French Camp was by far the most secluded. 
The United States census of 2000 quoted a population of 393 people while the most recent count shows a decrease to 170 residents or 0.01% of the US population as of 2014. The town spans just 1.0 square mile in which there resides two small cabin Bed and Breakfasts, a cafe in the Council House, a Christian academy and local radio station WFCA which was dedicated to Southern Gospel music. The town is home to a small thrift shop, a single post office and a whopping twelve churches. The closest McDonalds was half an hour from their home, and they thanked the stars that there was at least a Dollar General down the road. 
French Camp is part of the historic district dating back to 1801 when it was known as the inn and trading post Frenchman's Camp. It was established by a French-Canadian fur trader named Louis LeFleur and later became home to settlers. It is now milepost 180.7 on Natchez Trace Parkway, the scenic route winding through 450 miles of National Park Service land from Nashville, Tennessee to Natchez, Mississippi. Their home sat just near the milepost, at house 180. French Camp had the potential to be a perfect place for secrets to stay secrets. 
The Antons's moved there for the school, they had two young children and according to Travis's brother, Richard, "It was a much better school than most options in the area. The other reason was because he found an inexpensive house he liked and then they rented out the other house to make money. I'm not sure if it was rented or rent-to-own or something like that." Travis and Susan had been renovating the small house for months, from top to bottom like in the show "This Old House". New ceilings, new floors, new walls, which they painted orange, a re-done kitchen, complete with a vented Rinnai gas heater.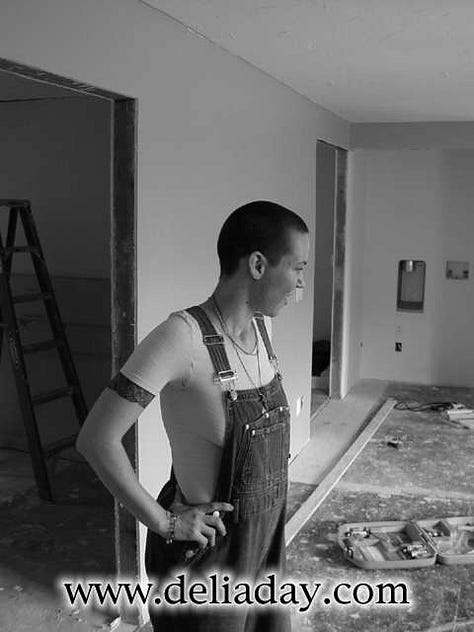 They were finally enjoying its livability and to make extra space, Travis began building a shed outside behind the house. Originally, he had his computer set up in the living room, on the dining table but after a couple close calls with their ten-year old daughter seeing Travis working on building the porn website it was clear that he needed his own space. Travis was very into woodworking and building so he started building a little studio out back, which doubled as a workshop.
Things in the Anton household were busy, life with two children and multiple businesses to run was anything but easy, especially for Susan. It was about one month after Travis secured the domain for My Illustrated Life as a Sex Slave at deliaday.com, when something very grim occurred in the Anton household… 
---
New Years 2003 was just on the horizon, but during a time of international celebration Susan found herself in the backyard digging a small grave. 
It was early evening and about 54°F out when the pulled up earth was finally packed back in its place again. The sun was setting and Travis would be home soon. A flicker of dread reamed through her; she let out a frustrated exhale at the thought and her hot breath became a little cloud in the cold air. 
She was dead tired and craving nicotine. She pictured the pack of Camel Turkish Gold cigarettes sitting on the kitchen table as she stood up and brushed off her knees. She headed back to the house, rested the shovel against the wall outside, and went through the kitchen door. 
The counter opposite the sink and stove were piled with all sorts of kitchenware leaving hardly any space. A large bag of assorted green and red apples sat up against the electric can opener, side-by-side with the toaster. A 24 oz loaf of Bunny Giant enriched bread had been thrown up where it could fit. They had put a makeshift metal rack up on the far side of the counter; it was loaded with stacks of Tupperware and glass jars for salt, flour and sugar which were lined up by the peanut-butter, Ramen noodles and spices. 
Leaning against the sink counter she stared at the cream-colored walls blankly and sucked down a second cigarette. 
Headlights splintered through the blinds as Travis's old C60 flatbed truck with a pintle hitch turned into their lot and Daisy bounded into the kitchen, tail wagging uncontrollably. Then Zoe, their daughter's Jack Russell Terrier mix, trotted in wagging her tail in kind. When Travis walked through the door, he greeted Susan and the dogs warmly and bore a wide smile. He set the bags he was carrying down and pet the dogs, giving Daisy the most attention, she was primarily his dog. "He acts like this morning never happened" Susan thought.
Earlier that morning Travis had been brooding the day away, wandering outside with his pellet gun. She heard it go off a couple of times and thought of the scary coydogs Travis would tell her about from his childhood on the farm. Shivering at the thought she turned from the window where she had been standing and went to drag out a bag of dry kibble. 
At the very sound, the dogs appeared in the kitchen like clockwork; that's when she noticed Wrinkles was missing. She called out for the dog but to no response and so she resigned into a sigh hoping there wasn't a puddle of urine in a corner somewhere. They were still working on house-training the puppy. She had bonded with Wrinkles quickly, they had become "buddies". The puppy was well behaved and had only ever barked occasionally at the neighbors. She considered the dog hers as the mastiffs were predominantly Travis's "buddies". They were sweet animals with their humans and guarded them with unrelenting loyalty, particularly Daisy. 
When the pellet gun went off again, she heard the sound of crying and immediately she felt sick. Slowly she walked across the hardwood floors to the back door leading out to the porch. She could see the Shar-Pei Dachshund, lying over near the edge of the lawn. "Oh, fuck" she cursed to herself as she lunged forward hopping off of the porch onto the grass. 
Closing in on the short haired dog it was obvious Wrinkles's coat was oozing with the burgundy hue of blood near the withers. Squatting near to her she could make out the raised welt from the pellet and rage poured out of her like the black relentless fury of an oil drilling rig blowout. It seemed that the sky had actually turned a menacing gray. 
She claims that Travis refused to give her the car keys, her license, and money for veterinary services. Out of desperation Susan decided to make a phone call though she knew he wouldn't like it. Fuck him.
She dialed the house phone frantically and paced. After a couple rings her mother-in-law's voice answered on the other end, "Hello?". 
Susan went right into it, "Travis just shot my dog." After an anxiety ridden explanation, she wasn't offered much help. In the end Willie Mae had her son on the phone only to offer up a weak scolding, "Travis you better not shoot that puppy with the pellet gun again" *. 
Willie Mae was a hard woman, but it was obvious that she was at as much of a loss as Susan was herself. Travis enjoyed manipulating semantics and he ameliorated the situation by promising not to shoot the puppy with a pellet gun. 
Wrinkles only lived for a couple days after that until Travis grew tired of him spotting blood around the house and crying. He took the dog outside and shot her fatally with a pistol. Three months later deliaday.com went live to the public. 
Susan could still hear the high pitch whimpering sound of her little Shar-Pei Dachshund puppy which made her stomach churn the way it had when the incident occurred. 
That is, if any of it is even true…  
---
Nine months after Susan claims that Wrinkles died this post was made by Delia on her LiveJournal account: 
Delia Day's Livejournal 

10:27 am September 2nd, 2003 

It is a very sad day 

I've just buried my dog, Wrinkles. I'm going to go hide in bed now. 

Current Mood: sad 
Did Wrinkles die around December 2002-January 2003 as Susan said or when the post was made on September 2nd of 2003? Did Travis actually shoot Wrinkles? Was the LiveJournal post intentionally inaccurate; a story told to gain sympathy from fans? Or maybe the story is true but Susan's memory of when it happened is off. 
The LiveJournal post is an official digital footprint that is timestamped while Susan's side of this story was told seventeen years after-the-fact in the context of an interview. Travis is not here to confirm or deny. Susan admittedly suffered from a "mental break", which brings into question the accuracy of not only her perception at the time but also her memory of events. 
Without prompting, Susan sent an email about the story of Wrinkles; it was a complete non-sequitur from the previous conversation, which was about her artwork. Below is the email: 
Susan Angulo

to: Viktoria Evans

date: Aug 3, 2019, 11:24 AM 

subject: I hope you're having a great   weekend :-)

In retrospect, one of the things that affected me on top of everything else...(Winter 2002-early 2003) was when Travis shot my puppy, then wouldn't give me the means (cash or my DL) to take her for treatment. I listened to her whimpering and watched her slowly bleeding for several days, until her fatally shot her. I then dug a hole, wrapped her body, and laid my "Wrinkles" to rest. :-( 

Gotta get ready for work now....hope you're having a good weekend....ttyl 
After being asked a few simple follow up questions, Susan wrote back the next day: 
Susan Angulo

to: Viktoria Evans

date: Aug 4, 2019, 11:59 AM 

subject: Thanks for asking... 

[…] 

Wrinkles (the Shar Pei/Dachshund mix" was always a healthy puppy, BUT she had primarily been MY "buddy". She had, unlike Daisy, never bitten anyone. Wrinkles had only barked at the teenage girl next door. I suppose that had been his best excuse at the time to further screw my head over. His mother told him "not to shoot that puppy again with a pellet gun," so I think he may have used one of the other guns to fatally shoot her a few days later. 
The only thing Travis wrote, in his name, that could possibly be about the incident was on BedlamsFolly, his LiveJournal account on June 14, 2003. The post is as follows:
Is my trail bigger or is it simply left to see as the unabashed facts of a life lived, instead of swept away, conveniently forgotten, buried in shallow graves like the evidence of crimes?" I said that once, but I said it before I dug a shallow grave this morning and washed the red from my own guilty hands. 
It is unclear what Travis is referring to in his post. If, and that's a big if, it had anything to do with the death of Wrinkles then it adds yet another date into the mix. Did this occur sometime between December 2002 and January 2003 as Susan recalls, June 14, 2003 when Travis posted about it or on September 2, 2003 when Delia wrote about it?
Travis's brother Richard said, "I mean, it might totally be true. I don't know one way or the other." He continued, "It would be weird for a dog to die being shot with a pellet gun for one thing. Bear in mind, this was 2002. So, a pellet gun these days is not like a pellet gun in those years necessarily. They've got quite a bit more vicious over the years." According to Susan, Wrinkles wasn't killed by the pellet gun, he was killed with a different gun a few days after the initial shooting. 
Regarding the story as described in the email Richard said, "My interpretation of that story would be that the dog was sick, and Travis didn't want to pay for the vet. So, he shot it to put it to sleep, which would upset a lot of people. But I think that if I understood what you were saying right, would still match the story." According to Susan, the puppy was healthy.
Was this an act of cruelty from a mad man or a misrepresentation of an unfortunate story?
[Listen to the interview clip with Richard Anton. He was going through paperwork that his mother kept on the case, hence the rustling in the background.]
 A previous co-worker of Travis's, Kevin Ethridge, said that Travis absolutely loved dogs and that he would be very surprised if the story was true.  
When Travis's first wife heard about the story she said, "I'm not surprised. I'm not surprised at all." When asked how Travis was with animals Rae said, "I don't know about animals outside of the home, but I know that he had a cat that was like 21 years old – ugh, she was disgusting. She, I mean, she was already dead and didn't know it. He was good to the cat to our dog; you know but I don't know about other animals." According to Rae he was good with their pets and yet, despite this, she was not surprised by the story and believed that he would maliciously shoot a puppy. She and Travis had a very messy divorce and were never on good terms, which seemed to color much of what she had to say about him. 
[Listen to the interview clip with Rae]
Unfortunately, Travis is not here to speak for himself because Susan killed him about one year after she claims he shot her dog. According to her, she was not in her "normal" state of mind when she pulled the trigger saying, "I've realized that I'd had a severe mental break on December 2, 2003" **
The story of Wrinkles proves an important theme throughout, that is the inconsistencies of not only Susan's narratives, but the narratives told by people who knew both Susan and Travis.
To debate whether or not it happened is less important than the fact that the story illustrates just how complicated the dynamic between Susan and Travis had become; it highlights the one-sidedness that such narratives have the potential to hold.
Keep all of this in mind as you read on. 
Despite the traumatic event, Susan and Travis stayed together for another year, during which time deliaday.com went live to the public while their marriage became more strained than ever.
---
* Author interview with Susan Anton, 2019
** Author interview with Susan Anton, email Saturday, July 20th, 2019, at 12:56 PM
Bound to Kill: The Untold Story of Delia Day is available for presale exclusively at MurderPop.Com, and includes a free lifetime subscription to Murder Pop Magazine.
MurderPM is a reader-supported publication. To receive new posts and support my work, consider becoming a free or paid subscriber.