Discover more from MurderPM with Viktoria Evans
Crime, Media, and Culture
Hamas Hostages Identified as Civilians
As a follow up, in our prior article on yesterday's terrorist attacks in Israel, we shared several videos of hostages and corpses that Hamas continues to claim were Israeli soldiers, like the clip seen below. Those claims have all turned out to be false.
Multiple media outlets have since confirmed that the half naked, broken lifeless body that was paraded through Gaza in the bed of a pick-up truck as militants sneered at their cameras and spit on her corpse has been identified not as a female Israeli soldier but a German-Israeli dual citizen tattoo artist and instagram model.
The family of Shani Louk immediately recognized her distinctive hair and leg tattoos and confirmed via the video that circulated on social media that the body was hers. She was allegedly shot in the head; reports that she was also sexually assaulted are only social media rumors at this point and have not been confirmed by anyone.
Her mother has released a video begging militants to return her daughters body.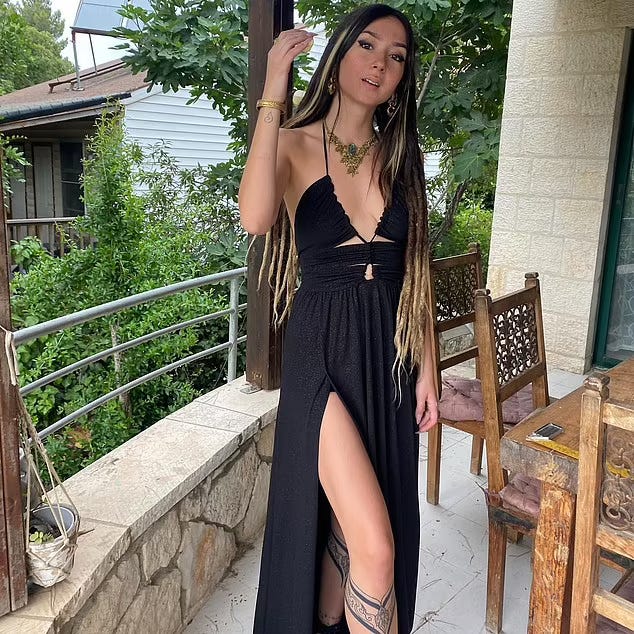 Shani Louk, 30, was at a music festival for peace when she was seized by terrorists as their surprise attack on Israel left hundreds of people dead and thousands more missing or injured. She is survived by a young son who was reportedly in the care of his grandmother while his mother attended the music festival.
In a second video that was widely shared on social media, a different woman can be seen screaming as she's forcibly driven away on a motorcycle, reaching out for her boyfriend who has also been taken hostage.
The Daily Mail identified her as Noa Argamani, 25, a student who was in attendance at the outdoor music and peace festival along with her boyfriend, identified as Avi Nathan. Argamani is seen being carried away on a Palestinian gunman's motorcycle as she screams "Don't kill me! No, no, no."
Hamas has released a short clip showing footage of Noa sitting on a couch drinking what appears to be water.
Esther Borochov, who fled the electronic dance music and peace festival in the southern Israeli kibbutz of Re'im close to the border with the Gaza Strip, said she survived by playing dead until she was rescued by Israeli soldiers after the driver of the car that was trying to help her escape was shot dead at point blank range.
Borochov told Reuters at a hospital, "I couldn't move my legs. Soldiers came and took us away to the bushes."
Haaretz, one of Israel's largest newspapers, described the festival grounds as a "battlefield," reporting that terrorists on motorcycles drove into and opened fire on the crowd.
Video from social media appeared to show men parachuting or paragliding into the festival as well.
The music festival attended by Shani, Noa, and Esther was one of the first sites to be attacked, with reports suggesting dozens were killed with many more taken hostage by the militants.
"The music stopped and there was a rocket siren," a young woman told Israel's Channel 12, according to Reuters. "Suddenly out of nowhere, they started shooting."
Witnesses told the Times of Israel that thousands tried to flee as gunshots were fired into the crowd.
Likewise, the woman pulled bleeding from the back of an SUV has been identified as a civilian named Karen Haiem. She was apparently injured already with a broken leg before being injured and kidnapped by Hamas.
Before the video of her captivity was released, her father made a social media post asking if anyone had any word of her whereabouts.
Concerns grew about her condition on social media as she appears badly wounded, with apparent wounds on her left arm and a deep gash in her right ankle, as well as what appear to be blood stains in the "pubic area" of her pants.
Mohammed Deif, leader of Hamas' military wing, said the assault was only the start of what he called 'Operation Al-Aqsa Storm'. "Enough is enough," said Deif, in a message he previously recorded because he is too afraid of assassination to appear in public. Deif was seriously injured in an Israeli airstrike in 2002, and he has reportedly been in poor health ever since.
In response, Israel's Defense Force launched a massive operation in the Gaza Strip, Operation Iron Swords, with targets including the personal home of Hamas Gaza chief Yehya Al-Sinwar. Benjamin Netanyahu, Prime Minister of Israel, has warned that "the enemy will pay a price he has never known."